Rusty AE86 pair, Mazda 929, GT86 spotted and random brochure/magazine pick revealed! [episode 6]
February 11, 2017 in what did i watch this week by banpei
Welcome to another Banpei Weekly video! Today we are at the sixth episode already and we feature a rusty AE86 pair, Mazda 929, GT86 spotted and more! Also the random brochure/magazine pick gets revealed, and be prepared for a big surprise!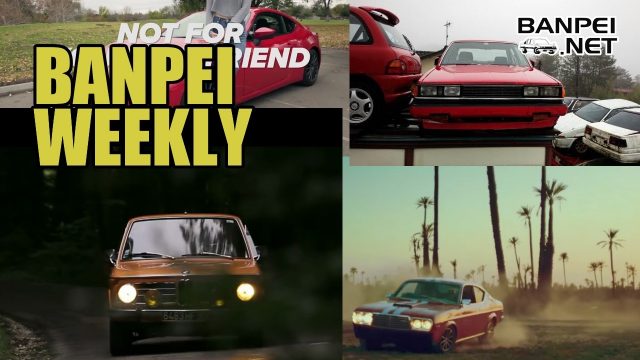 As you may have noticed, the format got renamed. Last time I asked if anyone could come up with a good name for the newer format, as it started to get bigger than just what did I watch this week. AE86 Standard came up with the Banpei Weekly and I liked it a lot! Thanks again, AE86 Standard!
I also added a little down on the street in here. I spotted a Toyota GT86 (aka 86 / FR-S) in the parkinglot at Fosdem. I didn't want to disturb the owner (he was calling someone on his phone) and I returned later to take a few pics and videos.
Watch the entire Banpei Weekly video below:
Random brochure/magazine
This week's pick was number 7! With two votes it got the majority of the votes.
Once opened up, it revealed the Japanese Nostaligic Car magazine issue #2 from 2008. I can't believe it is already nine years since they made this issue. Back in those days I got the magazine as a subscription and after one year (four issues) they axed the magazine. A bit of a shame and maybe they will revive the magazine one day! Or if I would put it in the more modern time spirit: what about a JNC TV channel? Oh wait, we'll be competition then… (sorry, old inside joke here… :D)
One yen auction of a Carina AA63 reveals a pair of rusty AE86s in the background
I was browsing the Yahoo Auctions pages and stumbled upon a very interesting one Yen auction: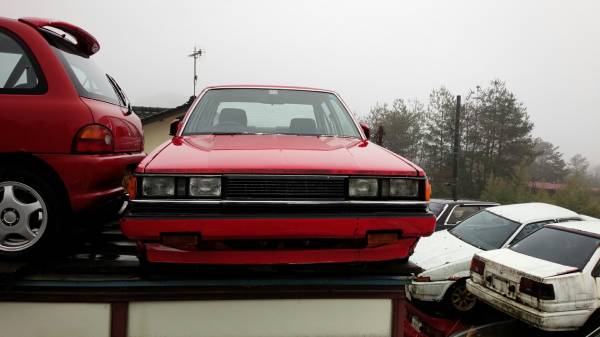 It wasn't the Carina that caught my attention, but rather the pair of AE86 rustoseums in the background!
The AE86 in the back is clearly a zenki two door Toyota Sprinter Trueno AE86, and the one up front is most probably a zenki two door Toyota Corolla Levin AE86. The reason I think it is a zenki Levin, is because the tail lights miss the center section with the reverse lights that the kouki has, and also because those tail lights are the one from a Levin. Naturally someone could have swapped them, so I could be wrong here…
Saad Lamjarred – LM3ALLEM
A good two weeks ago, a Dutch satirical show created a video with an introduction of the Netherlands for President Trump, claiming we understand it is America first and if we could become the second. Over the past two weeks many other satirical shows have created their own local version of it, including Morocco. Morocco included a short clip of the song LM3ALLEM (Allem means boss) of their singer Saad Lamjarred:
I immediately caught the Mazda 929 in it and searched for the official music video of LM3ALLEM. Gred corrected me on Youtube, and I claimed the 929 was the same as the RX5 and Cosmo. Obviously I made an error here: it is the same (minus a rotary engine) as the RX4 and the Luce. I blame that I got confused over the 121, 323, 626, 929 designations, with th 121 being the top model. That lineup really makes sense!
Weekly Picks 008 08 Feb 17 by PacificCoastAuto
This weeks auction picks by PacificCoastAuto include a very good looking Toyota Celica TA22 with 2T-G swap:
Especially these SSR MK2s really suit the car!
The Colorado Orange 1972 BMW 2002 Touring by Petrolicious
I just love the 02!
My mom had one (inherited that from my grandfather) and it was an awesome car. Originally it was Sahara yellow, but got resprayed in Colorado Orange. And it even included similar foglights as the one featured in this Petrolicious video! The only difference is that my mom owned a regular 02 and not the touring.
Great for One Thing II by Toyota USA
This video by Toyota USA was a big WTF?! for me:
I totally understand the 86 is not meant for picking up grandma, doing groceries or family trips. However implying not for your girlfriend implies two things:
1. The target audience for this commercial is male! (or lesbian)
2. No women are supposed to buy an 86!
Surely their marketing team must have done extensive research and probably found out that more than 80% of the people who buy the 86 are:
1. male
2. between 25 and 35
So naturally marketing the 86 for the majority of their target audience gives the largest return on investment.
However, come on Toyota USA! This is pure and simple discrimination on gender! I know at least two girls who would love to own and drive the 86! I really didn't expect this from a country that pretends to be the most civilized country in the world! You can do better than this!
closing
That's it for this week! Don't forget to vote for the random brochures/magazines! Numbers 1, 5 and 11. Just leave your pick below in the comments!
Also if you have any suggestion or comment, just leave those below in the comments as well!
Direct link to video: Rusty AE86 pair, Mazda 929, GT86 spotted and random brochure/magazine pick revealed!