Japanese Custom Vans, Dutch Zokusha, Toyota Tank and AE86 rally [Episode 5]
February 10, 2017 in what did i watch this week by banpei
Welcome to episode five of the What Did I Watch This Week, where each week I make a selection of videos/photos that I enjoyed very much during the week.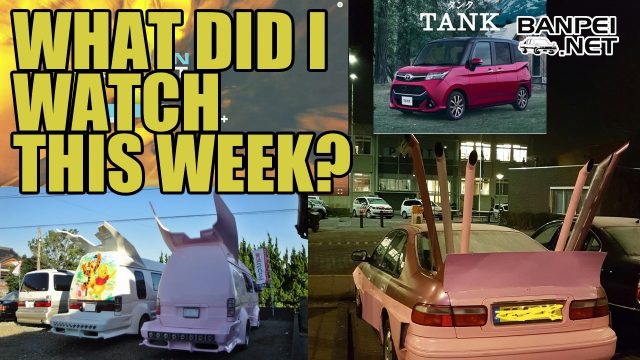 This week we have Japanese Custom Vans, Dutch Zokusha, Toyota Tank, AE86 rally and more for you!
Watch the video below:
Random brochure / magazine
Also the format will improve slightly: I will add a few sections here and there. The first section that I add will be the random brochure/magazine that you will choose for me! The format is quite simple: I made photos of 11 brochures and magazines, printed them and stuffed them in 11 envelopes. I then shuffled them, and numbered them from 1 to 11. Every week I'll draw three random numbers and you can vote for which of the three will be opened!
List of brochures/magazines:
Toyota Soarer MZ10 Super Gran Turismo
Nissan-Datsun Rally & Race Digest
Postert Catalogue 1984
Datsun 200L brochure 1975
Datsun 2000 brochure 1973
Nissan Skyline van C110 brochure (JDM 1970s)
Toyota Corolla Levin AE86 brochure 1983
Auto 7 magazine (Czech)
Japanese Nostalgic Car magazine issue 2
Rozsdakupacs magazine (Hungarian)
Nissan Heritage Collection book
This week's numbers are 7, 8 and 10, so let me know in the comments which of these three envelopes I should open up!
Zokusha caught in the Netherlands
On a large photo and video dump site in the Netherlands, someone posted a picture of an euphonious twitter message from the Dutch police. Apparently they caught a zokusha driving on the streets!
Goedemorgen. Met een glimlach het bureau binnenlopen. Het voertuig was van de weg gehaald door mijn collega's gisterenavond #somepeople pic.twitter.com/24Om8zzoeZ

— Marcel van Loo (@polIndustrieNrd) January 27, 2017

So I started to investigate the message and soon spotted another police force catching another one. Apparently ASICS (a Japanese running-shoe manufacturer) custom ordered these for their 30th anniversary. Can you believe that?
Another weird detail is that they had been caught in my old neighborhood in Amsterdam Noord…
Now, if anyone knows these guys, please let me get in touch with them! 😉
Toyota Tank
I already knew from the existence of the Toyota Tank, but never really registered it that much. But if you look at these ads by Toyota:
What was Toyota interpreting as tank? Being tanked? (and dressing up weird with your friends) Or someone tankable? (A tankable is a girl that you need at least a 6 pack in you before you think about having sex with)
Weird!
Unicorn circuit
Yes! They are back!
Did I Buy The Worst Lexus SC400 In The World?
Tavarish, a Jalopnik editor, finds out the true meaning of Wasabi Cars:
Pacific Coast / Let's Drive Japan – Update Video
Sad sad sad announcement:
Derek from PacificCoastAuto explains that Paul left the company, tries to explain why and what the future will bring for PacificCoastAuto and Let's Drive Japan.
A Chat About Those Crazy Custom Vans I Keep Seeing in Japan (not Bosozoku or Gundam)
In the latest PacificCoastAuto weekly auction picks, they included a typical Japanese van with wild flares and bodywork. Someone in the comments said it was called bosozokustyle, but being the evil mastermind behind bosozokustyle I knew this wasn't correct. So I dug into the subject and remembered Daniel O'Grady from Wasabi Cars did a feature on these cars:
Now he spoke to an owner of one of these vans and bluntly asked (I guess as blunt as you can speak to a Japanese) what they are officially called. The owner replied there was no real name, apart from custom vans, for this style. So that's cleared up now and we all can sleep well at night again!
1986 Paris Dakar Rally with AE86 of Team ACP (Japan)
At the Japanese Nostalgic Blog Question of the Week, they asked which JNC was the car that got most people into grassroots rally racing. I'm convinced the AE86 is one of these cars, and to add evidence I looked up the video from the 1986 Paris Dakar rally featuring Team APC with a Levin AE86! This is the same team APC that finished the Paris Dakar rally with the Carina SA60 in 1982.
D4A Toyota MR2 road trip to Mostar + 4age MPG
Last video for this week is the Driving 4 Answers road trip to Mostar video:
The MR2 looks and sounds amazing, and he recently finished the rebuild of it. If you like to see a permanent grin on a MR2 owner, this is the video to watch!
Direct link to video: Japanese Custom Vans, Dutch Zokusha, Toyota Tank and AE86 rally [Episode 5]