Auction cars, Gamera, E-AE86, Tsuchiya drives a Levin [Episode 4]
Auction cars, Gamera, E-AE86, Tsuchiya drives a Levin [Episode 4]
We're already at the fourth episode of What Did I Watch This Week! This week we have seven videos in total: Auction cars, Gamera, electric AE86 and Keiichi Tsuchiya drives a Levin!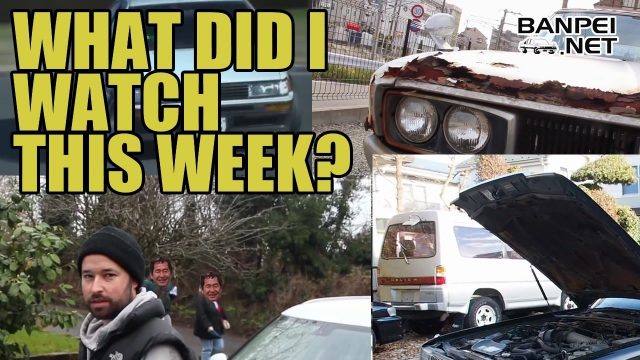 Watch my commentary below:
1983 Toyota Sprinter Trueno AE86 (The Netherlands Import) Japan Auction Purchase Review
This obviously is my very own Toyota Sprinter Trueno AE86 that I won through auction. PacificCoastAuto is my exporting company, and as usual they did an auction purchase review. It is a bit odd, watching the review of your very own car…
1992 Nissan Skyline GT-R **HKS Bonus Parts** (USA Import) Japan Auction Purchase Review
Another PacificCoastAuto auction purchase review and this is a very nice R32 GT-R, for the price that they paid. As Derek describes: it is at the lower bottom of the range for GT-Rs, but for the price they paid it is a very good car. The owner certainly is very lucky!
1988 Toyota Crown Estate Supercharged Hearse (USA Import) Japan Auction Purchase Review
The last one of the auction purchase reviews that I watched this week, and this is a special one! The car is a super charged Toyota Crown Royal Saloon Station Wagon GS130-G, that got converted into a hearse. I don't think the company converted it for the additional torque the supercharger provides with the 1G-GZE, but actually because this is the more luxurious version of the Crown wagon. Nice one to watch and be amazed about the automotive insanity shortly before the Japanese bubble economy burst.
Turtle Monster Face: 1974 Nissan Laurel SGL Sedan
How to describe this best? I would say "Wasabi Cars in it's natural habitat". Yes, Daniel O'Grady loves covering rusty cars on Japanese soil and this video is absolutely the best so far!
1972 BMW 2002: Regular Car Reviews
Even if RCR had given the 02 a bad review, I still would have recommended this video. I absolutely love the 2002, as my mom used to own one during the 80s. It was passed to her from my grandfather, who became too blinded to drive safely anymore. If I wasn't entirely into Japanese cars, I'd probably would have driven an 02 instead.
Hybrid Toyota AE86 – what have I bought
Island Monkeys bought an AE86 from Japan as well. However his hachi-roku was from a different pedigree than mine: it was used as an experimental EV in a couple of endurance races. Certainly interesting, but the car is in such bad shape that he will convert it back to a dinosaur burning car again. Definitely worth watching!
Keiichi Tsuchiya's driving impression of the AE86 Corolla Levin
Toyota is celebrating the 50th birthday of the Corolla by creating short clips about the various cars and models, and they now have ended up at the E80 series. What better way to remember the E80 series, than with a sentimental Tsuchiya and screeching tires of a Levin AE86?
Questions, comments and suggestions
That's it for this week's portion of videos! I hope you enjoyed them as much as I did!
If you have any questions, comments or suggestions, just leave them below in the comments section!
Direct link to video: Auction cars, Gamera, E-AE86, Tsuchiya drives a Levin [Episode 4]