OMG! I bought an AE86 from Japan!
OMG! I bought an AE86 from Japan!
Yes, you are reading that right: I bought an AE86 from Japan! Well, actually it will be AEU86 (the company, not the forums) that will get the car from Japan. The plan, so far, is to get the car from Japan, fix it up and resell it after a few months. I know for sure I will regret selling it…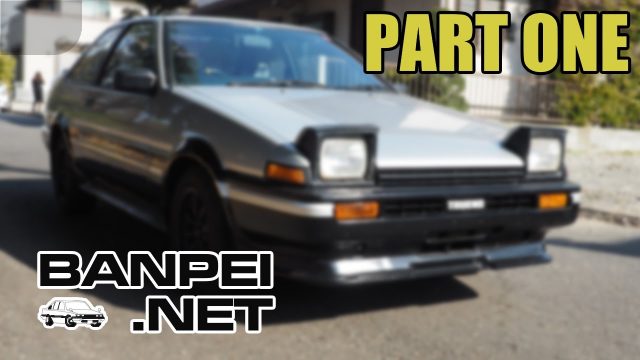 The whole idea of importing an AE86 has been going on for a few months already. I don't have a bucket-list, but if I had one this is one of those things you want to get off it. In timelines I reckon the whole process from start till end takes about four months, but that's something we'll have to see and experience. It took me quite a lot of work to figure most of it out upfront, as not many people have documented this process from start till end. So I'm also planning to share this experience back to you in a couple of vlogs.
If you haven't seen it already, I made two videos on this topic so far. The first video is an announcement video:

And the second video is a reaction to the overwhelming responses I got on the first video. The video also contains five tips you can follow, before you rush out to buy a car from auction. Or to be more precise, before getting in contact with an import/export company like PacificCoastAuto. These five things either have helped me greatly, or are the things I had to find out the hard way.

Tips
The tips boil down to this:
Determine the car you want to get from Japan
Learn all about this car
Learn about local legislation for car imports
Import yourself or let someone else do it?
Determine your budget (and stick to it!)
Determine the car you want to get from Japan
First, determine which car you want to get from Japan and stick to it. If you are interested in multiple car models, you will constantly get distracted a lot. It is better to focus on a single model, as it makes it much simpler to get familiar with it.
Learn all about this car
Yes, learn all about this car. Get familiar with the Achilles-heel of the car: all the specifics, quirks, engines, suspension upgrades, places where it rusts and where it wears down first. If you know this, you can easily distinguish good cars and bad cars. Or better: know which cars to ignore.
Learn about local legislation for car imports
Get familiar with your local legislation. Is it legal to import a specific car to your country? In the case of the Netherlands this is easy: not many restrictions are found here, but for the US there is a 25 year import ban. For Canada a similar 15 years and even in some countries like Hungary it gets weirder: it must meet the Euro 4 standard (fat chance with an 80s/90s JDM car) or be older than 25 years (veteran car). So do check before you go out and get a car from Japan!
Import yourself or let someone else do it?
After the export company in Japan hands over the car to the roll-on-roll-off shipment, it basically is all in your hands. To import the car into your country can be a bothersome process that you might want to leave to someone more experienced than you. Also determine where to ship the car to, in the Netherlands it is easy: we have two major ports. However it could be very different if you live in Switzerland: Germany, France, Italy or the Netherlands?
Determine your budget (and stick to it!)
Calculate how much you are willing/able to spend on your car. This helps you to find your limits in the bidding process, and also helps the exporter to know what price range you are looking for. They would also warn you if your budget is seriously low. For instance PacificCoastAuto doesn't bid on low condition car (condition 2 and lower) as they wish to keep their customers happy, and not haul a tonne of rust to the other side of the ocean.
Also do stick to your budget! I got tempted various times by immaculate condition cars (like a genuine black limited AE86), but since I knew the limits of my budget I was able to withstand the temptation of placing a bid I couldn't afford.
The Sprinter Trueno AE86 in question
Also PacificCoastAuto, my exporter, has posted their Auction Inspection video on their channel:

Video series
I will continue on the series of videos, explaining how you can import your dream car from Japan. My current vlog plan is roughly as following:
Finding a suitable exporter
Browsing the auctions
Requesting an auction sheet translation
Place your first bid
Payment and delivery
Arrival at the port
Get the car registered
Recap
Obviously there may be a couple of changes in between.
Also, if you have any questions: just leave them in the comments section below (or on Youtube) and I'll try to answer them in the next video. Each video will have a short Q&A section, so you will receive an answer within one or two weeks.
Direct link to videos: Importing an AE86 from Japan! [part one], OMG! I bought an AE86 from Japan! and 1983 Toyota Sprinter Trueno AE86 (The Netherlands Import) Japan Auction Purchase Review