Onevia, Glass Waterfall and JDM Presidential VIP treatment [ Episode 3 ]
Onevia, Glass Waterfall and JDM Presidential VIP treatment [ Episode 3 ]
Welcome to another episode of What Did I Watch This Week? and this episode will contain five highlighted videos: Onevia, Roll in and out, Glass Waterfall, Jack Nicklaus and JDM Presidential VIP treatment.
Mighty Car Mods revealed the current state of 2Sexy and Tay Tay. Also they announced their Roadkill vs MCM to be released on Christmas day! Be sure to check their channel for these updates!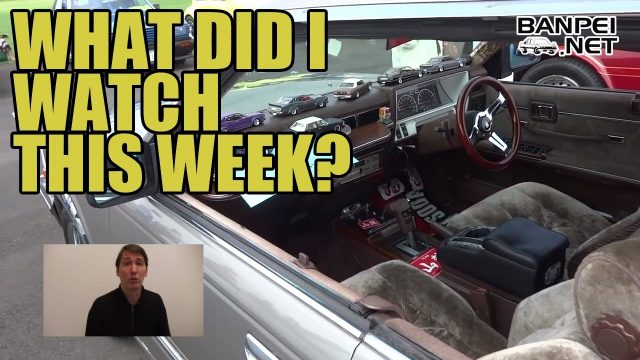 Other news is that 84Hachi posted a video, listing all the components he used for the 4AC distributor cancellation with a coil on plug conversion. Be sure to check it out here.
Now for the five videos I watched this week:

Inspector Exacto's Onevia
The Nissan SilEighty is a mad car, where you take the 180SX backend and Silvia frontend. The Onevia is the opposite of this and is just as rad. Watch out for 0:51. Big surprise!

Wasabi Cars Yamaguchi Roll in & out
Roll in and out videos are always good, and at the Yamaguchi car show there was a lot of JDM nostalgics. Old Skylines, Laurels, Bluebirds, Coronas, Soarers and more!

Glass waterfall by Roman3s
Roman3s is another fellow Carina owner, and he had a slight accident with his windshield. So, while removing it he filmed it and shared the waterfall in slowmotion with us. Brilliant to see!

Timelapse of the replacement of the glass:

Nissan Gloria Y30 Jack Nicklaus version
These cars are awesome to see. So nice and plushy interior. Seats made out of tweed. I could live in one! 😀

My JDM trivia about the Jack Nicklaus version

Japanese prime minister merges traffic
This is just insane! The speed must be around 80 km/h (50 mph) and these Japanese motorists nicely slow down the second they see the prime minister's car. Unfortunately embedding of this video is not allowed, so follow this link to watch it:
Presidential VIP merging
That's it! This was the What Did I Watch This Week of this week. This will also be the last episode, as it is almost Christmas and the end of the year is coming soon. Another Chrismassy video will be coming up soon, so keep your eyes open for that one!
Direct link to video: Onevia, Glass Waterfall and JDM Presidential VIP treatment [ Episode 3 ]