AE86 jet fighters, Motocompos, Mount Haruna and Osaka Kanjo Racers [Episode 1]
AE86 jet fighters, Motocompos, Mount Haruna and Osaka Kanjo Racers [Episode 1]
What did I watch this week? This week's What Did I Watch This Week is all about AE86 jet fighters, Motocompos, Mount Haruna and Osaka Kanjo Racers!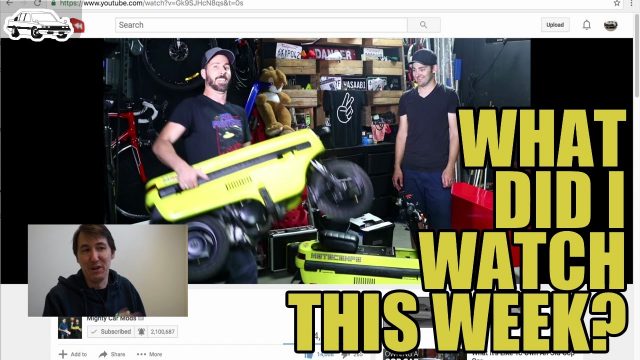 This video is something new that I'm trying out: a weekly vlog on the videos I watched earlier that week and what I liked or disliked about them. See it as my new way to do my regular blog posts in a vlog. 😉
Watch the first episode below:

You can find some of my comments below. All videos have been linked inside the the video.
If you have any comments, suggestions or videos you like to send me: just leave them in the comments below.
AE86 vs wall
A pristine AE86 drifts down Ebisu on the drift matsuri and hits the wall. Major kudos on the Carina GT-R AA63 in the video.
AE86 jet fighters
By the same uploader as the AE86 vs wall, shot at the same drift matsuri on Ebisu circuit. I love the jet fighter style targeting in this video and it really is fun to watch! We need more AE86 jet fighters!
This weeks unicorn circuit
Moog and Marty hanging on their couch on a daily basis, is good for car news, fanks and story time. This week it is a good one: they eat Dutch stroopwafels from the random eat bag.
Let's drive Mitsubishi Delica Chamionix
Let's Drive Japan is a side channel for Pacificcoast Auto, where they do petrolhead stuff. This week's highlight: a drive through urban Japan in a weird and quirky MPV.
84Hachi's 4AC distributor replacement
84hachi has been modifying his 86 SR5 extensively. The latest highlight: distributor cancellation by replacing it with a Megajolt and coil-on-plug.
Osaka Kanjo racers
All Inspector Exacto's videos are hilarious to watch. His latest and greatest about Osaka Kanjo Racers has a hidden feature: turn on the captions. It is very funny to read. 😉
Wasabi Cars Mad Max's Ford Falcon GT hardtop interceptor replica
One of my favourite cars from Mad Max. When I saw this car as a kid I fell in love with this Aussie metal. I didn't know back then that it was an Australia only car. It is a Wasabi Cars video, so definitely worth watching!
ori Yaro returning to Mount Haruna
Mount Haruna is called Mount Akina in Initial D, and this has become a sanctuary for many race fans. Nori Yaro is returning to Mount Haruna and does the fanboy tour. Awesome to watch!
Motocompo race by Mighty Car Mods
Motocompo's rule. Period. They always have done since I read about them in the 90s in the You're Under Arrest manga (Taiho Shichauzo), republished by Dark Horse. Combine Mighty Car Mods with three Honda Motocompo bikes and a circuit, and you will have a long episode full of fun!
Direct link to video: AE86 jet fighters, Motocompos, Mount Haruna and Osaka Kanjo Racers [Episode 1]